7

min read
As known fitness junkies, our McClure Fitness instructors constantly get asked what fitness gear we recommend.
We're about to give you all the answers you've been longing for. From clothes to gear, to playlists, these are the things that I and a few other instructors can't live without!
---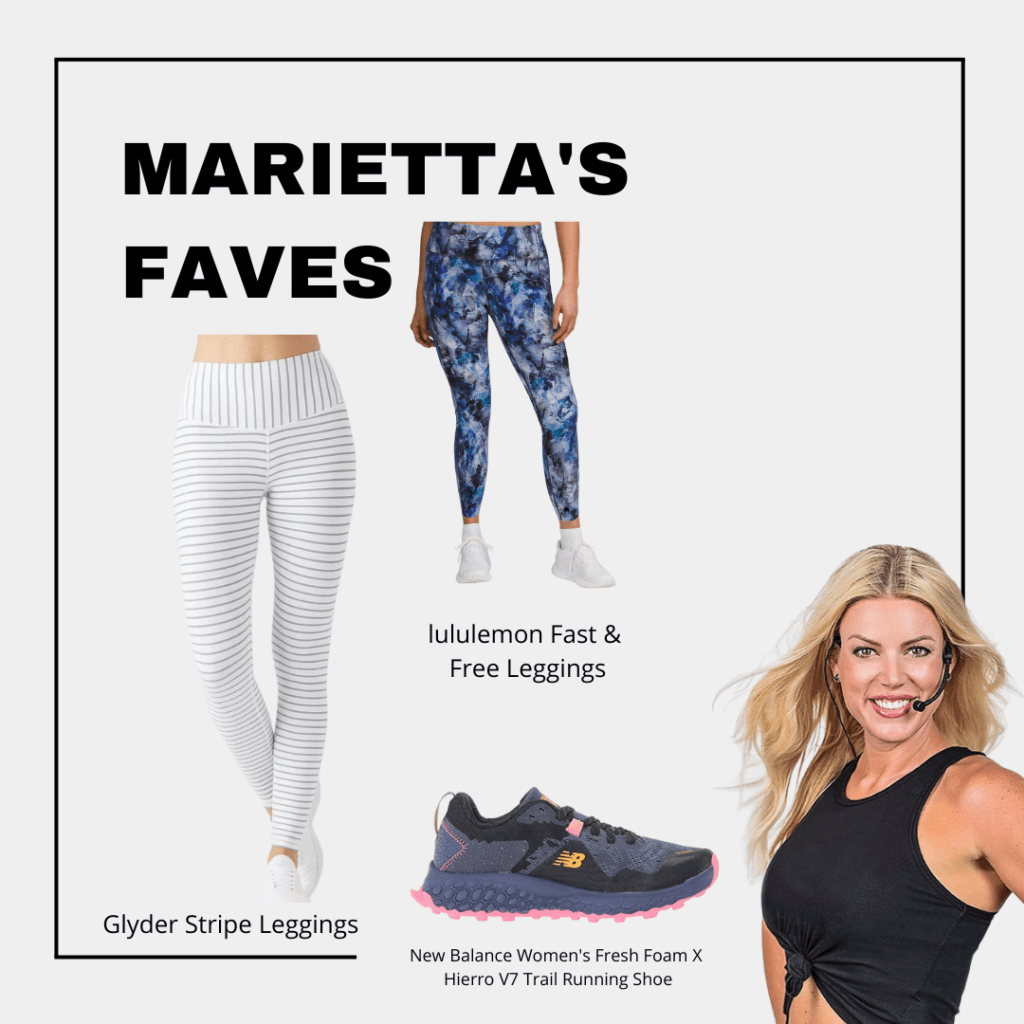 Marietta
For Bootcamp classes, one of my go-to's is my lululemon Fast and Free Leggings, which are hands down the best leggings out there. So, if you've been wondering if lululemon leggings are worth the money, I'm here to tell you – they really are.
Another must-have for Bootcamp is my New Balances. These shoes are designed for trail running, making them durable enough to handle all that I put them through during those intense Bootcamp classes.
In addition to those, I have my own set of preferences for a spin class. I love my Glyder leggings in a striped print for Spin, not only because they look cool but also because they're also super comfortable and provide the ultimate lift! Another product for Spin that I, along with most of my instructors, can't live without is my TIEMs. These stylish shoes are designed specifically for cycling, making them perfect for spin class!
As far as my favorite fitness gear, my answer is… MY BODY. You don't have to go out and buy fancy workout equipment. The results that you can get using just your body weight are insane!
Y'all already know I love my music loud and upbeat. Here's my 2023 playlist that you can check out.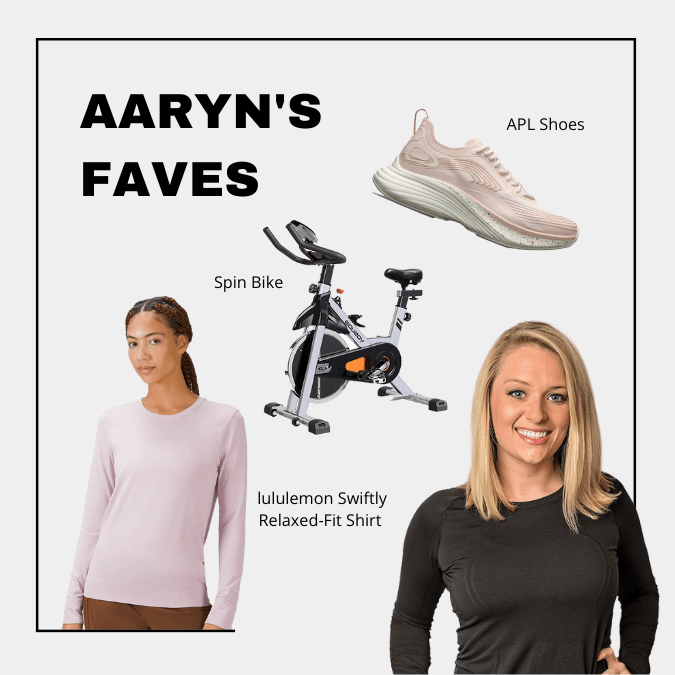 Aaryn
Aaryn knows how to look good while crushing her workouts. She swears by lululemon Fast and Free leggings for HIIT, paired with a Swiftly Relaxed-Fit Shirt for ultimate comfort. And let's not forget her prized possession (which is completely unbiased), the McClure Fitness White Sweatshirt, which she rocks with confidence.
When it comes to footwear, Aaryn prefers TIEM shoes for spinning and APL shoes for bootcamp.
But don't even bother asking her about fitness gear because she only has one answer: her spin bike.
And for her workout tunes, Aaryn turns to Spotify (thank goodness she's not using Apple Music like her brother, Joe). Check out her go-to playlist, which is fire (you'll get the name when you click the link).
Alice
Alice loves all things lululemon & Athleta – she couldn't even pick a favorite.
She also loves her Nike Air Pegasus shoes for all types of classes because they're both supportive & comfortable and put a little pep in your step.
For gear, she loves her dumbbells and bands, but also her Animalhouse MonkeyFeet, which allows you to strap your weights onto your feet, so you can work your legs like you would your arms. I know – so cool.
She also loves to start her class with her personal cocktail of SPARK® Energy & BeetElite, which gives her both energy & endurance to keep pushing herself throughout her workout.
Pam shared her LIFT playlist (which is mostly clean), which could double as a workout and party playlist. Check it out to see the hip-hop beats she's got going while she's sweating it out!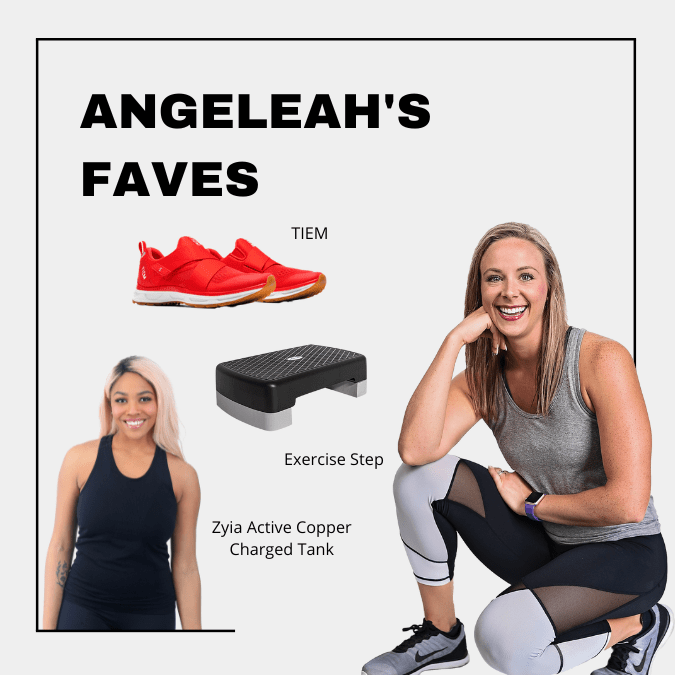 Angeleah
Angeleah's workout wardrobe essentials are a pair of lululemon leggings and the Zyia Active Copper Charged Tank. lulu leggings are a classic staple in the fitness world, known for their high-quality fabric and durability. The Zyia Active Copper Charged Tank reduces odor and helps regulate body temperature during workouts.
When it comes to shoes, Angeleah's got two different faves, depending on the workout. For spinning, she rocks her TIEMs. And for bootcamp or any other type of cardio, she loves any lightweight Nike shoe.
As for fitness gear, Angeleah keeps it pretty simple – dumbbells, a step, and a roller board are all she needs. And let's be real, who doesn't love a good roller board session? It's the ultimate way to loosen up those muscles after a tough workout.
For her workout tunes, she loves any playlist that the Murdock siblings (Joe & Aaryn) create, but in her defense, their playlists are pretty great!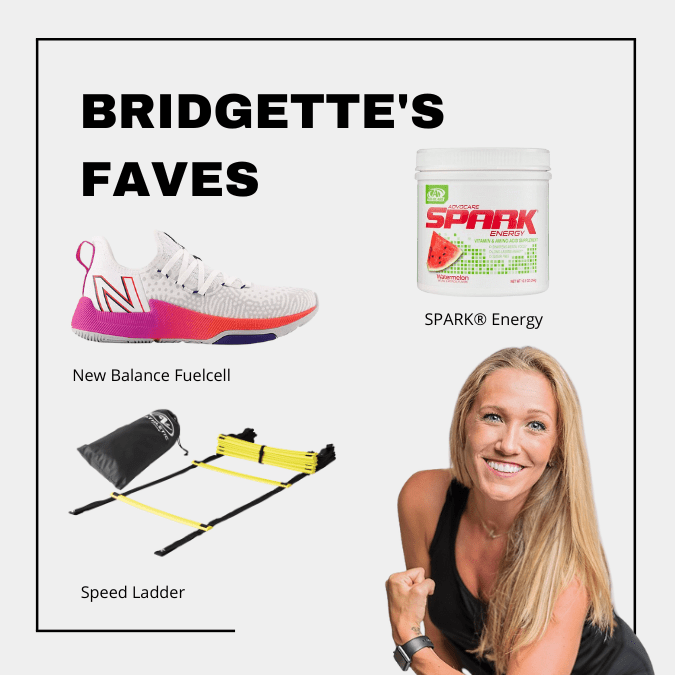 Bridgette
Bridgette loves high-quality workout gear, so her favorite brands are lululemon, Athleta, and Zyia Active.
For her shoes, Bridgette loves the New Balance Fuelcells. The Fuelcells are designed for running, making them lightweight for speed and cushioned for comfort, making them a great choice for any workout.
Bridgette also loves SPARK® Energy pre-workout to give her the boost of energy she needs to stay at the top of her game during her workout. Bridgette is also quick on her feet and stays that way by working out with a speed ladder.
Bridgette also shared her Spotify playlist, Shivers, which is a mix of pop and hip-hop, ranging from Ed Sheeran to Saweetie.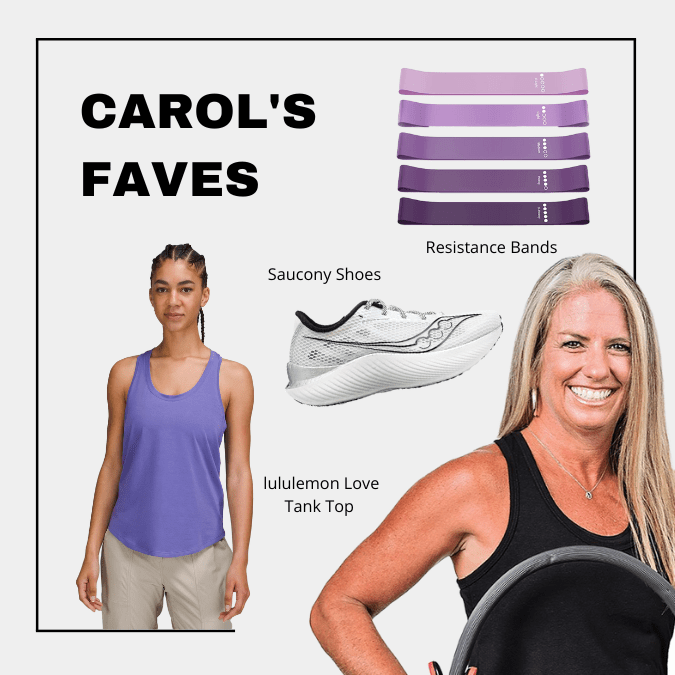 Carol
Carol's go-to workout clothes are the lululemon Love Tank Top and Wunder Train Leggings. She loves the comfortable and breathable material that allows her to move freely during her workouts. And for shoes, she prefers her trusty Sauconys.
When I asked Carol to share her favorite workout playlist, she responded, "That's cute. You think I know how to attach a link."
Come on, Carol! It's not that hard. We'll let it slide this time, though.
As for her favorite workout music, she's all about the classics – Prince and Michael Jackson. Sadly, since Carol didn't give us a link to her playlist, you'll just have to use your imagination or try searching for it yourself.
Don't worry, Carol. We still love you and your retro tunes!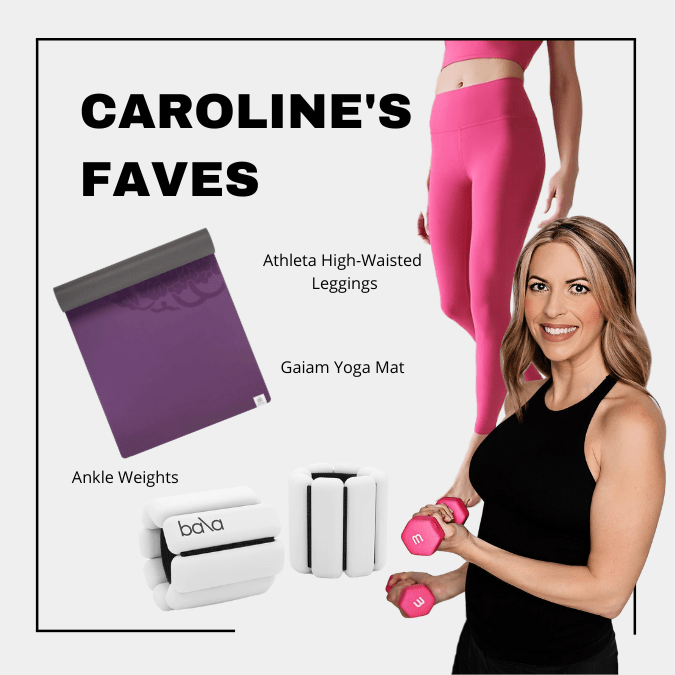 Caroline
Caroline swears by high-waisted leggings from either lululemon or Athleta. She loves the high-waisted leggings because they "hold in that extra skin," if you know what she means. As for shoes, she's been rockin' the same Nikes for five years. Now, I don't know about you, but that's some serious commitment to footwear.
When it comes to fitness gear, Caroline keeps it simple with a squishy mat from Amazon for barre and a Gaiam Yoga Mat for PiYo. Apparently, the squishy ones don't cut it for yoga – they just don't provide enough stability. And for at-home workouts, she's all about those ankle weights. Gotta add some extra resistance to those squats and lunges, am I right?
And finally, Caroline's go-to workout playlist on Spotify has got everything from Shania Twain to Dua Lipa to Lizzo. So, if you need some tunes to get you pumped up for your next sweat sesh, give it a listen.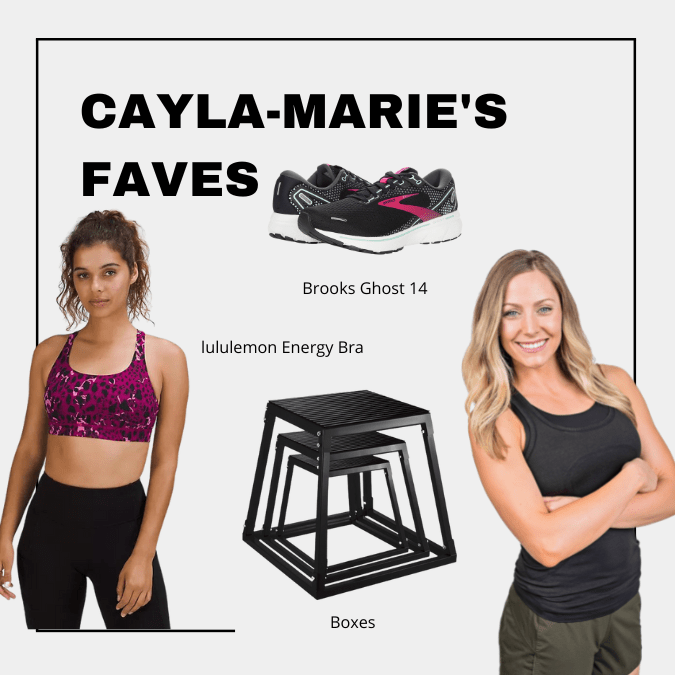 Cayla-Marie
Cayla-Marie has the ultimate workout combo: lululemon Fast and Free Leggings and the Energy Bra. This outfit will have you looking and feeling like a fitness queen!
When it comes to shoes, Cayla-Marie swears by the Brooks Ghost 14, which are perfect for running or taking a HITT class.
For her workout gear, Cayla-Marie keeps it simple but effective with boxes, weights, and steps. She's all about getting in a good sweat with the basics.
And last but certainly not least, we have Cayla-Marie's favorite Bootcamp-ing playlist. She likes to mix it up and find inspiration from other trainers, so she shamelessly admits to stealing playlists from her pals at McClure Fitness.
---
Wait, Where's Everyone Else?
You may be wondering what the rest of our instructors' favorites are. If so, you'll be happy to know that this is only part one of a series of instructor favorites. We'll be sharing more McClure Fitness favorites in the coming months, so stay tuned for more favorites!
Until then, if you haven't yet, book a class with one of these amazing instructors at our gym in Benton. We promise you'll have a good time (if burning calories is what you call a good time).
You can also work out with a lot of these instructors online, so check us out at McClure Fitness Online, too.
We can't wait to hear your thoughts on our recommendations. Don't forget to sign up for email updates so we can let you know when part two drops!