7

min read
We sure did.
 If you loved Part 1 of this series but didn't see your favorite instructor's favorite gear, now is your chance to uncover more of the juicy details.
---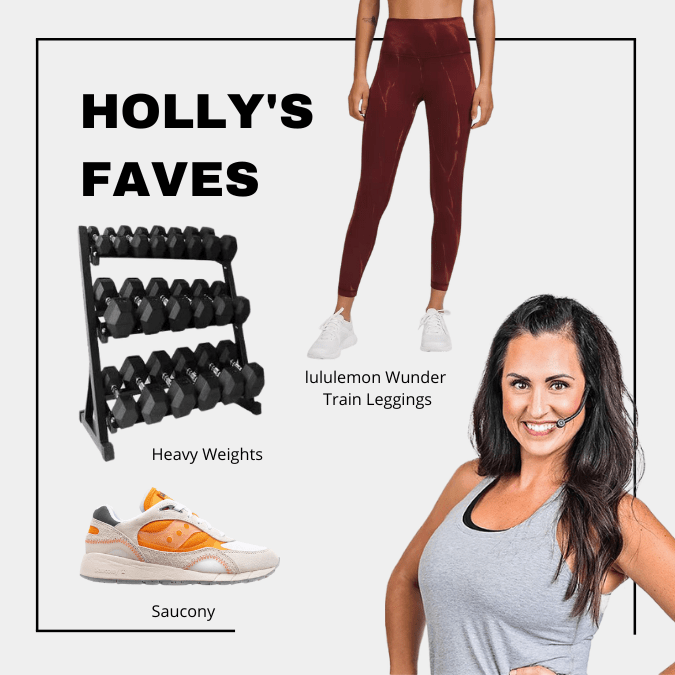 Holly
If you're looking to channel your inner Holly for your next workout, her go-to clothes for working out are the lululemon Wunder Train Leggings. These leggings are a must-have in any fitness enthusiast's wardrobe, thanks to their comfortable fit and high-quality fabric that stays put during any exercise.
When it comes to shoes, Holly likes to change things up every workout and rotates between New Balance, Brooks, and Saucony. These shoes offer the perfect balance of comfort and support, making them ideal for any type of workout.
As for fitness gear, Holly loves to lift heavy weights. Weights are a great way to build muscle and increase overall strength, so it's no wonder Holly can't get enough of them!
Holly also likes to get "KRUNK" when she works out, so that's what she named her favorite workout playlist. It's packed with upbeat, high-energy tunes that are perfect for keeping you motivated during your sweat session.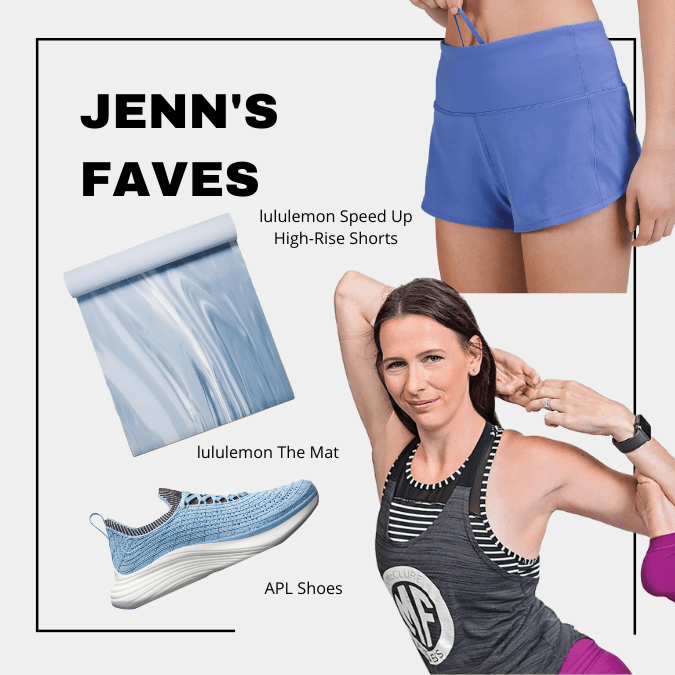 Jenn
When it comes to her workout gear, Jenn is all about the comfort and versatility of lululemon. Her go-to items include the Wunder Train High-Rise Leggings and the Speed Up High-Rise Shorts. These pieces are perfect for yoga, stretching, and low-impact workouts.
While Jenn prefers to practice yoga barefoot, she recommends APL Shoes (Athletic Propulsion Labs) for high-intensity workouts like bootcamp. When it comes to fitness gear, Jenn swears by her trusty lululemon The Mat, which has been her go-to for over a decade.
Jenn's favorite Apple Music playlist for her yoga sessions is "yoga jams." This playlist features a mix of artists, including Lauren Daigle, Taylor Swift (LOTS of Taylor Swift), John Mayer, and Leon Bridges. Whether you're flowing through a vinyasa sequence or holding a challenging pose, these tunes are sure to help you find your zen.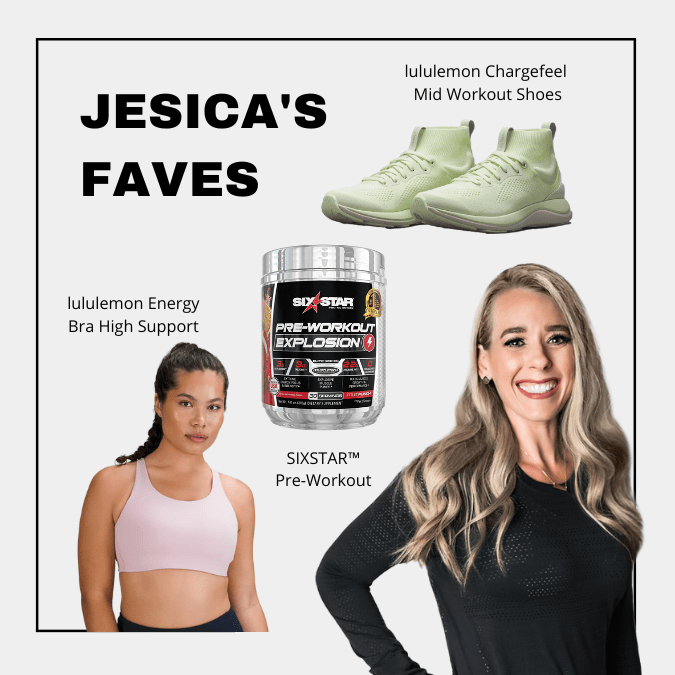 Jesica
Jesica (AKA "One S Jes") loves all things lululemon, and she's got some specific favorites. She loves the Energy Bra High Support, and she swears by the Fast and Free High-Rise Leggings.
For tops, she loves the High-Neck Running and Training Tank Top – stylish and functional!
When it comes to shoes, Jesica is all about the lululemon Chargefeel Mid Workout shoes. They've been great for her bootcamp and strength workouts.
And, of course, for gear, she can't live without her trusty spin bike. But when it comes to her must-have fitness gear, it's not really a "gear" at all – it's SIXSTAR™ Pre-Workout. It's inexpensive, and Jesica loves the taste, although it does make her itch and tingle – which she actually loves!
And finally, Jesica's favorite Spotify playlist to work out with is "2023 Fresh Vibes," created by One S Jes herself, and it features 3 hours of fresh, high-energy tracks to keep her going!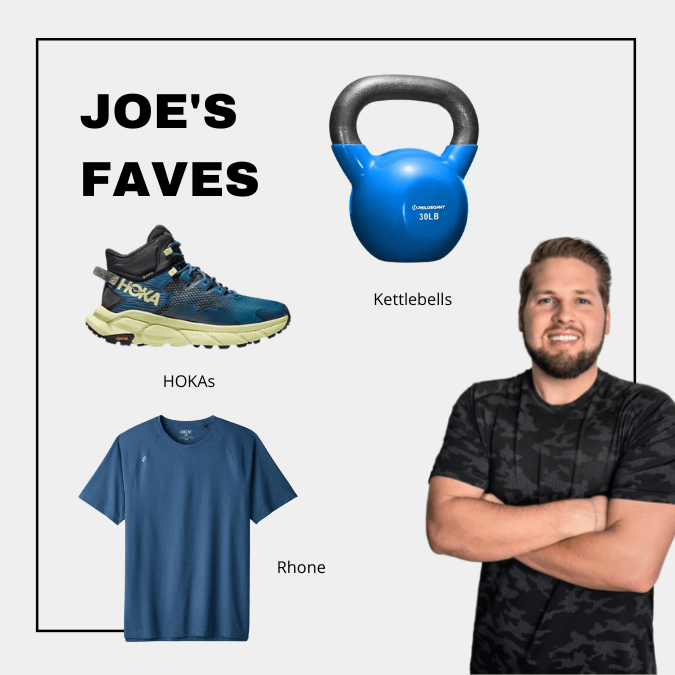 Joe
Joe is all about looking good while feeling good during his workouts, so he rocks some killer lululemon and Rhone gear.
When it comes to shoes, Joe swears by his HOKAs for bootcamp workouts.
As for fitness gear, Joe is a kettlebell fanatic, and he always makes sure to get in a good kettlebell sesh during his workouts.
When it comes to music, Joe's go-to workout playlist is on Apple Music, but we won't hold that against him. It's packed with high-energy tracks that keep him motivated and pushing through even the toughest of workouts!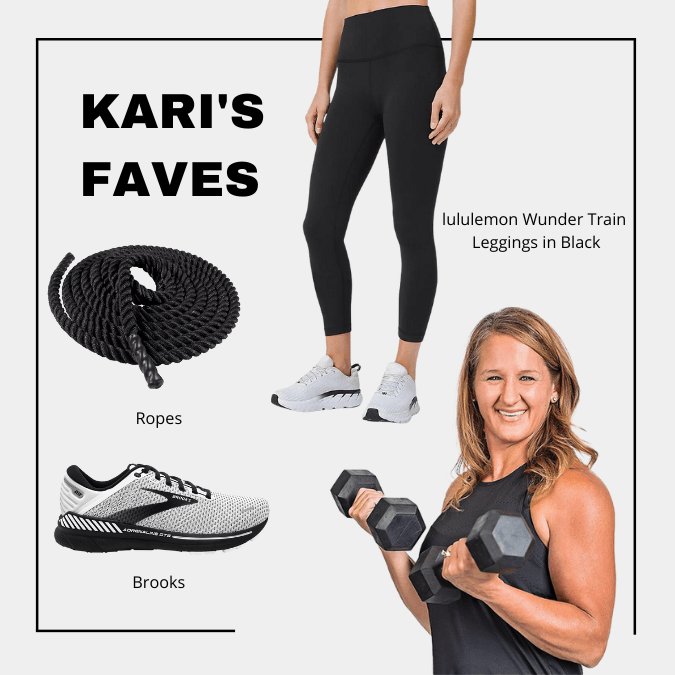 Kari
Kari is all about the lululemon Wunder Train Leggings in black for her go-to workout clothes. She's a neutral girl, always opting for black.
For shoes, she's a fan of Brooks but doesn't have a specific exercise in mind for them – she just loves how they feel.
As for fitness gear, Kari can't live without her ropes. She says they're versatile and can be used for strength training and cardio. Plus, they're a lot of fun!
Kari also loves Pop music for her workouts. She shared her go-to workout mix, titled "Level Up," and if you're a fan of early 2000's or 2010's pop, you'll love this playlist!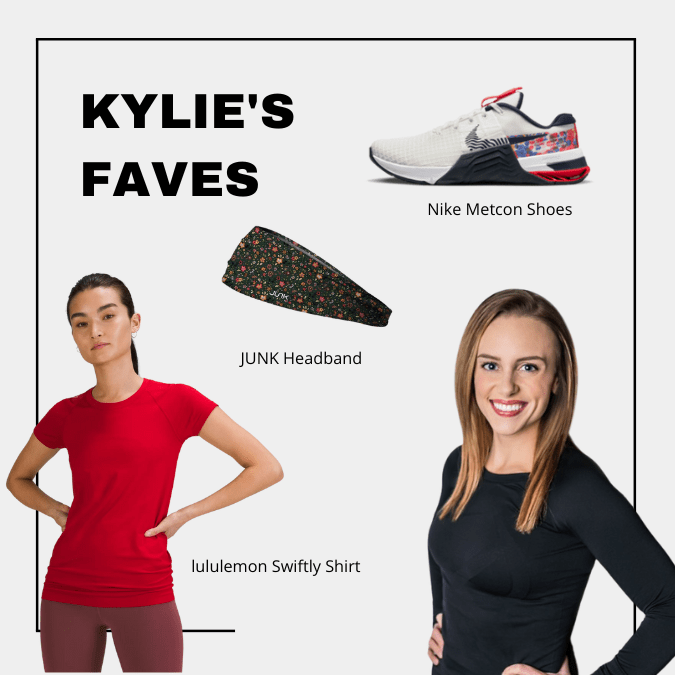 Kylie
Kylie has a few lululemon faves – the All the Right Places Leggings, Fast and Free Leggings, and the Swiftly Tech Long-Sleeve Shirt. 
As far as footwear goes, she loves her TIEMs (who doesn't?) for cycling and her Nike Metcons for everything else.
For gear, her go-to is her JUNK headband that keeps her hair back and the sweat out of her eyes when she's going hard at the gym.
Looking for some music to pump you up for your workout? Check out Kylie's 2023 Playlist on Spotify.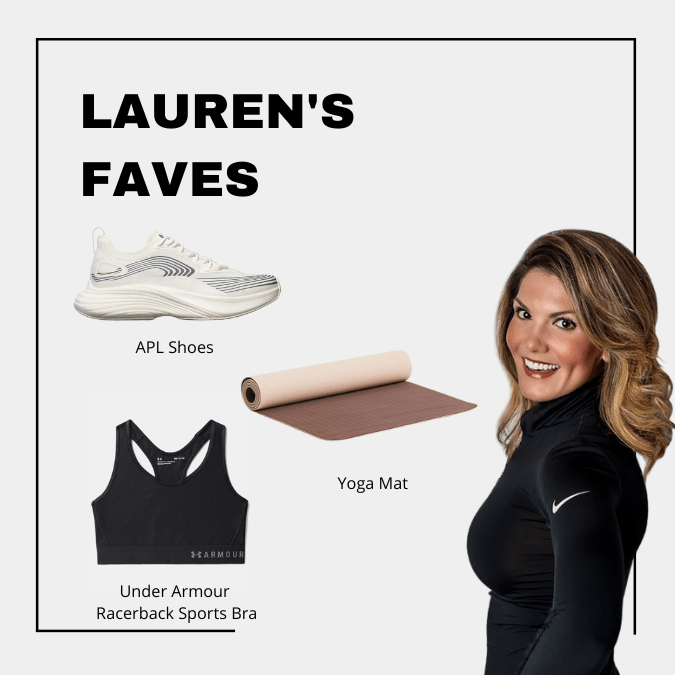 Lauren
Lauren loves the lululemon Align™ Leggings & the Align™ Tank Top because of their soft, buttery, lightweight fabric. She'll also pair them with her Under Armour Racerback Sports Bra, which comes in a variety of colors and styles.
As for her shoes, Lauren loves the brand APL, especially for Lifting or Bootcamp workouts. Not only are these shoes stylish (seriously, they look so cool), but they also feature exclusive technology to help you reach top performance with each workout. She also loves her TIEMs for Spin class.
Some workout equipment that Lauren couldn't live without include her yoga mat and her resistance bands (to work her legs and lift her booty). She also loves SPARK® Energy, saying, "A SPARK pre-class is always a must to get me going!"
Lauren also shared her Barre playlist, consisting of everything from Sabrina Carpenter to Post Malone.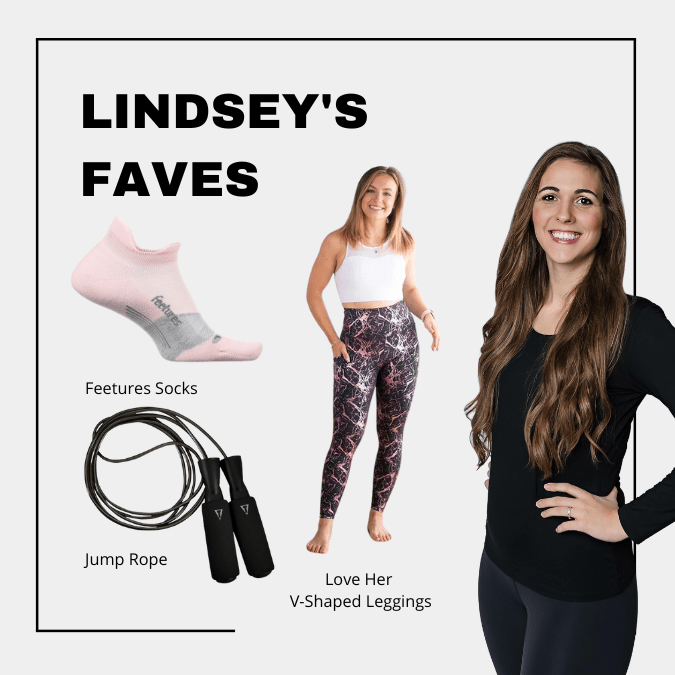 Lindsey
Lindsey loves her workout clothes from Love Her. Her favorites include the Slimming Leggings and V-shaped Leggings, which are perfect for all types of workouts. She also swears by The One 2.0 Sports Bra, which has pads that don't move during high-intensity workouts. Lindsey also loves to wear a sweatshirt during her workout, so she can stay warm during outdoor workouts and sweat out all of her toxins during indoor workouts. She pairs her workout clothes with Feetures socks, which she calls "little sweat-wicking clouds for your feet."
When it comes to shoes, Lindsey has different favorites for different workouts. She loves the TIEM shoes for spin classes and the Brooks Ghosts for Bootcamp classes. These shoes provide the support and comfort she needs for high-intensity workouts.
Lindsey's favorite fitness gear includes a spin bike, dumbbells, an aerobic step, a yoga mat, and a jump rope. She loves to mix up her workouts with different equipment to challenge herself and keep her workouts interesting.
Lindsey's go-to playlist on Spotify for working out is the Hip-Hop Workout Mix, which offers hype hip-hop hits to keep her going during high-intensity workouts.
Lyndsy
Lyndsy isn't afraid to pay for quality gear, so she loves the brands lululemon and Athleta. Specifically, she loves lululemon leggings and Athleta tanks and shorts.
She also loves her HOKA Bondis for high-impact moves and says that "they've done wonders for my back issues."
When it comes to fitness gear, she loves TRX straps and strength bands, especially for booty work.
Lyndsy also loves her Hype Workout Mix playlist, curated by Spotify just for her, which features hype hip-hop songs by artists like Eminem, Lil Baby, etc.
---
I know what you're thinking – Marietta, there are STILL instructors missing from this list.
Check back in for Part 3 next month, and you'll get the final scoop on all the gear we can't live without.
In the meantime, don't forget to keep up your workout routine! Book a class at our gym in Benton or work out with us at McClure Fitness Online.
And don't forget to check back next month for the third & final part of our Instructor Faves series!