5

min read
The moment you've all been waiting for is finally here.
We're wrapping up the Instructor Faves series with this final edition. So if you've been waiting to hear your favorite instructor's recommendations, now is the time!
Keep reading to discover even more insider tips and tricks to elevate your fitness game and keep you motivated throughout your journey!
---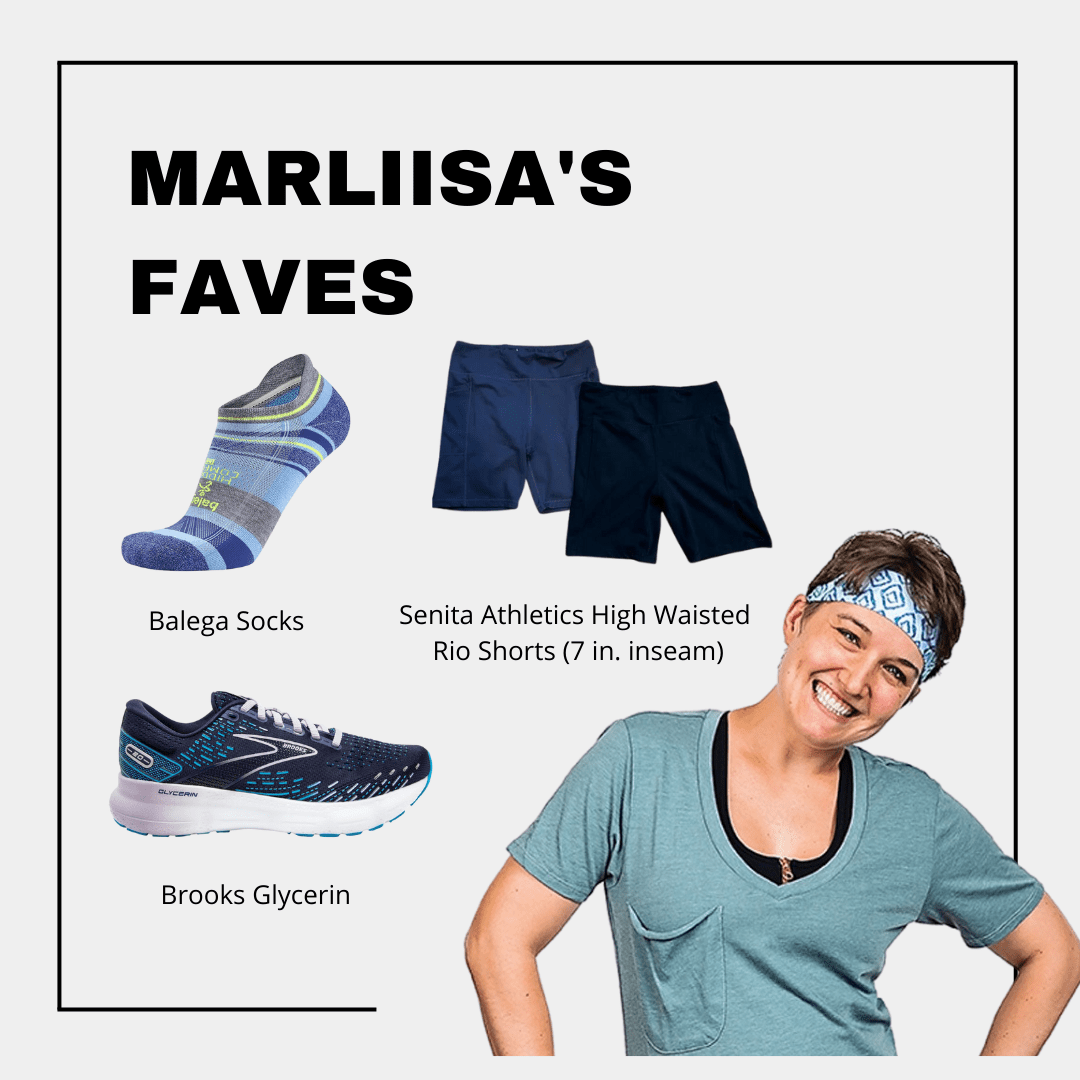 Marliisa
Marliisa's go-to clothes for working out are the Senita Athletics High Waisted Rio Shorts (7 in. inseam) and the Senita Zip Up Sports Bra. She loves them so much that she has them in every color! Marliisa also swears by Balega socks for a comfortable workout.
When it comes to shoes, Marliisa prefers Brooks Glycerins, which are perfect for all types of exercises. She especially loves that you don't need shoes for yoga or barre.
Marliisa also uses the Eco Jute Yoga Mat by Ajna Wellbeing, which she loves for its eco-friendliness and comfortable texture.
For yoga, Marliisa's go-to playlist is Spotify's Totally Stress Free playlist, which features tons of favorites for easy listening.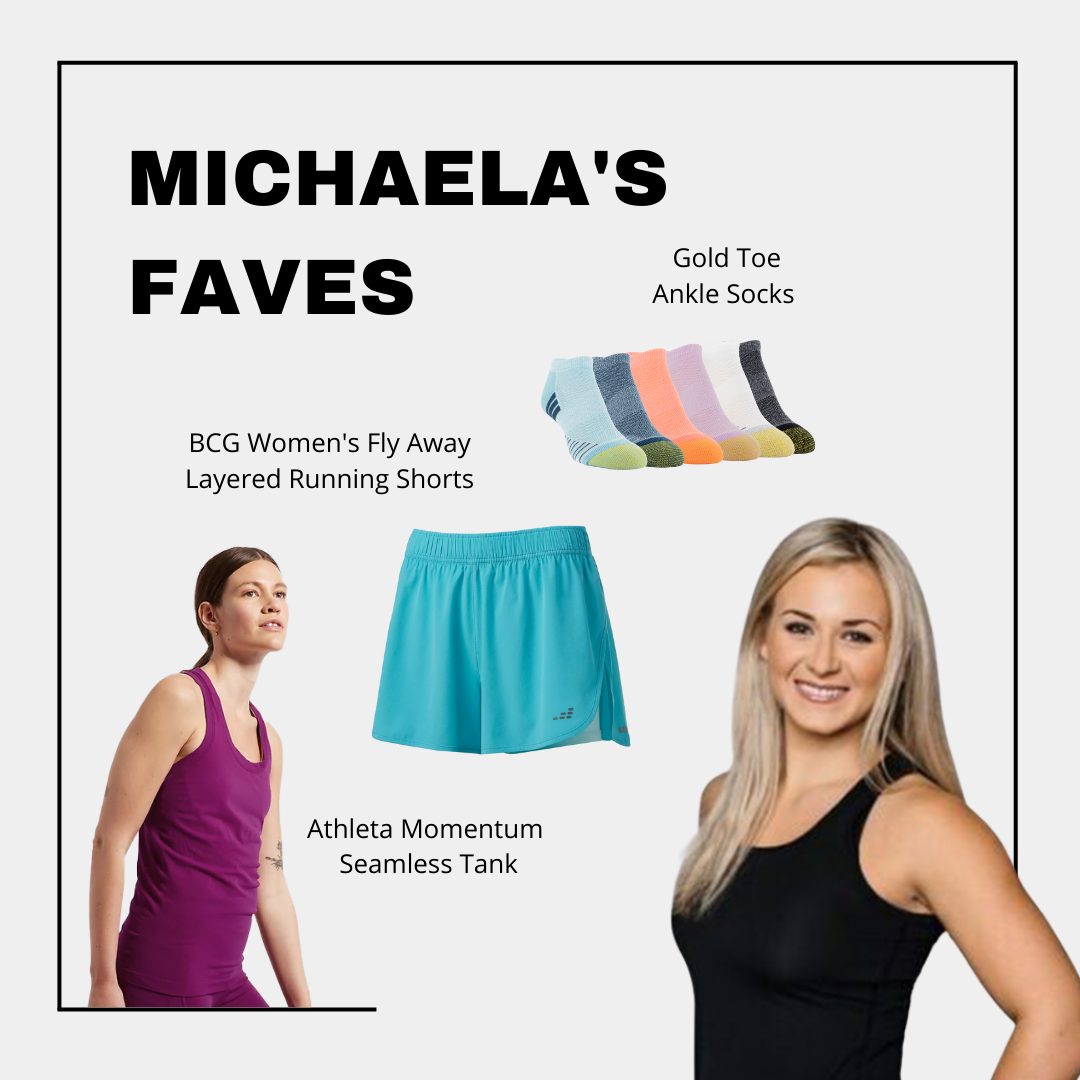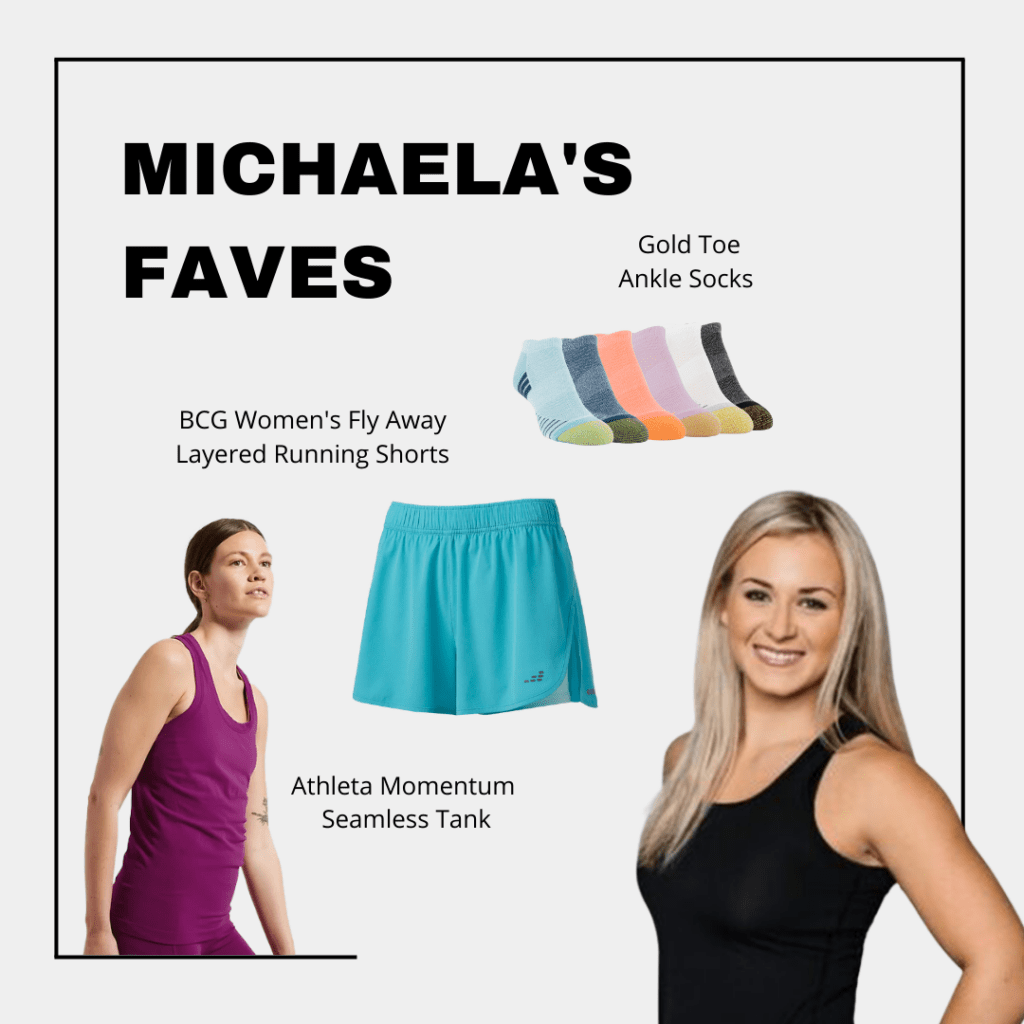 Michaela
When it comes to shoes, Michaela's all about the Brooks Ghost for her strength and bootcamp workouts.
As for fitness gear, Michaela's a big fan of the BC Strength Glute Bench, which is perfect for targeting those glutes and hamstrings.
Last but not least, Michaela loves to work out with a mix of old and new tunes, ranging from pop to rock, alternative to hip-hop, and even a little country if it hits right. Check out her Lifting playlist on Spotify to get in the zone!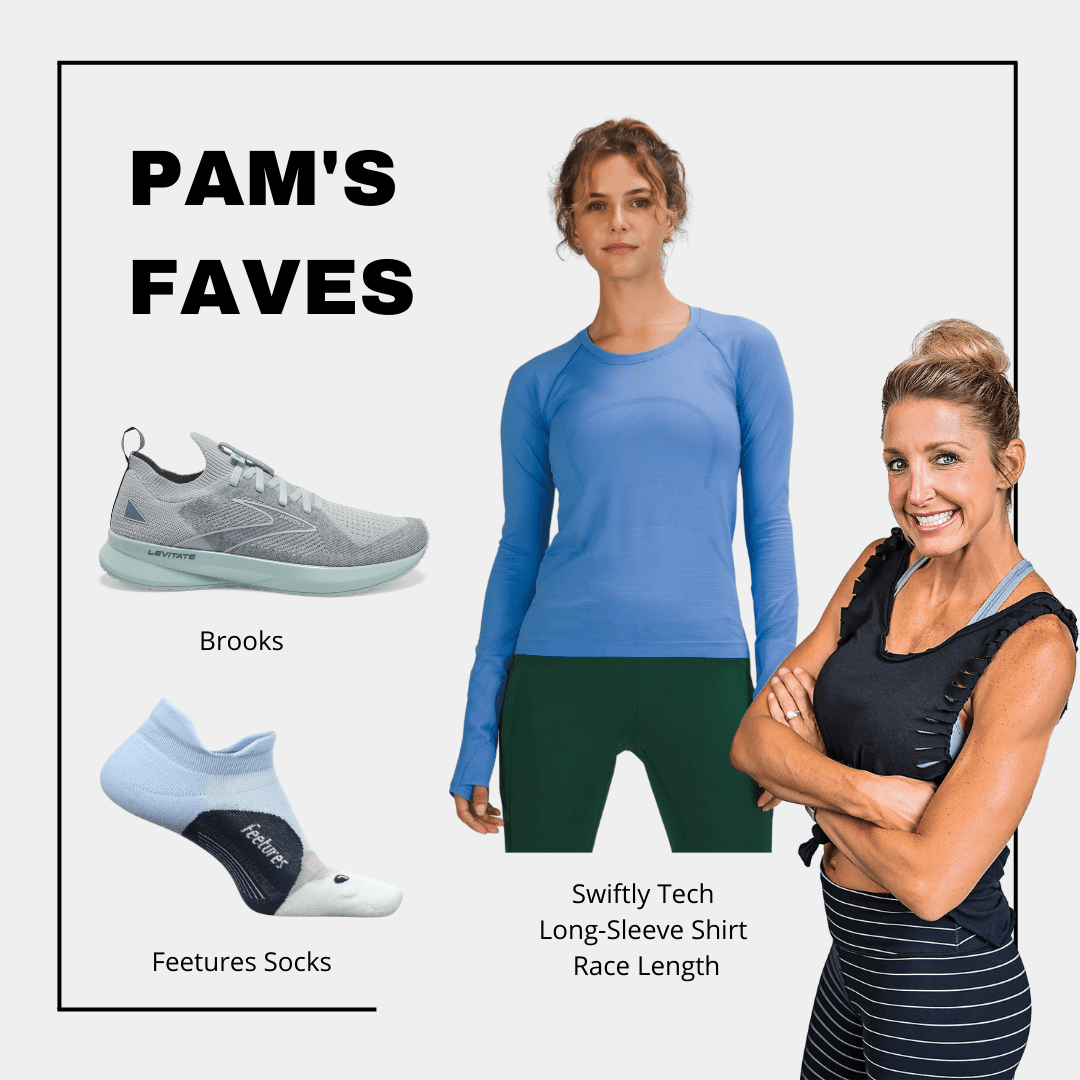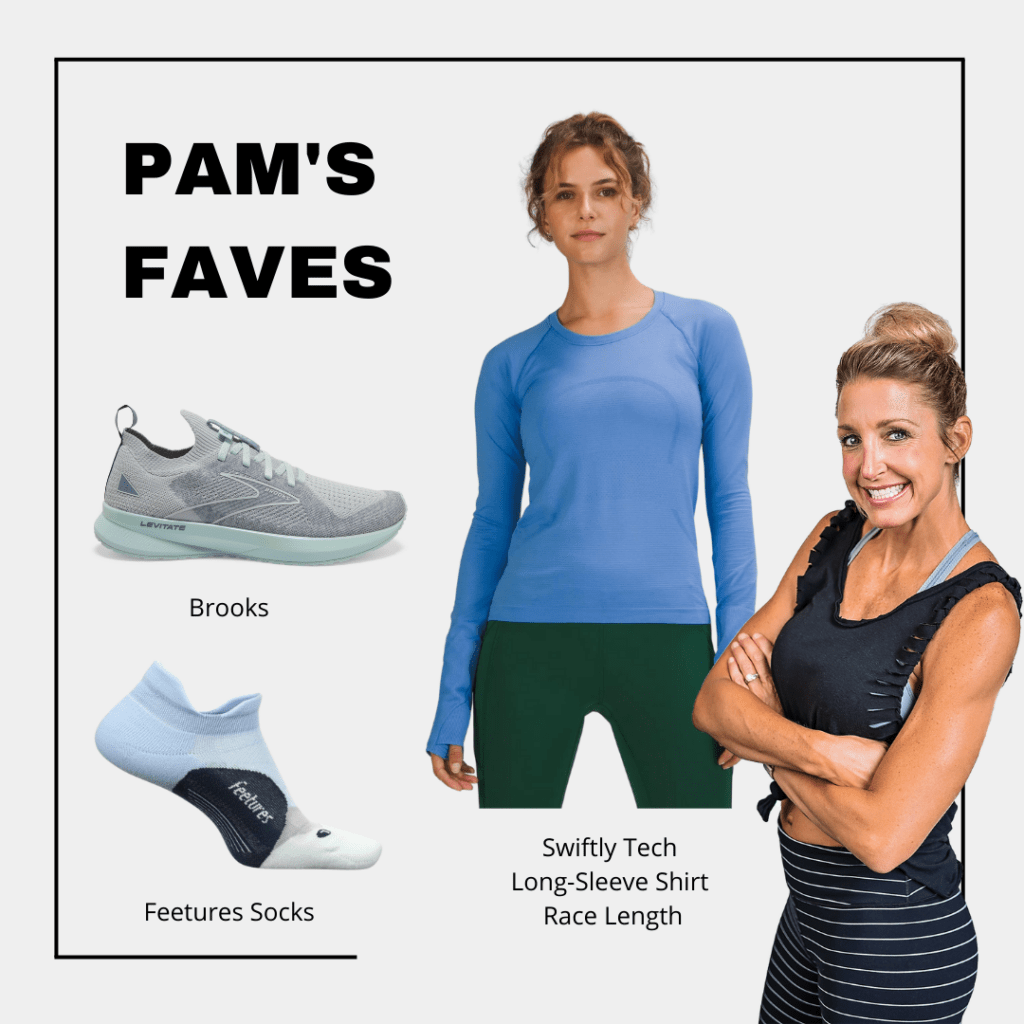 Pam
Pam's workout 'fit consists of her lululemon Swift Speed High-Rise Leggings and lululemon Swiftly Tech Long-Sleeve Shirt (Race Length), which are both breathable & lightweight for Bootcamp, Spin, or HIIT classes.
When it comes to what she's got on her feet, she loves Feetures socks, calling them "The. Best. Socks. Ever." For running or HIITs, she loves her Brooks & On Cloud shoes since they're both comfy and supportive. For Spin, she also loves TIEMs (Of course).
For gear, we all know that Pam loves her spin bike. She also loves "a good ol' step, too."
Pam likes to have fun in her classes, so she plays upbeat music that makes you want to MOVE. She shared her Party Time playlist with us, so you can turn your workout into a party too!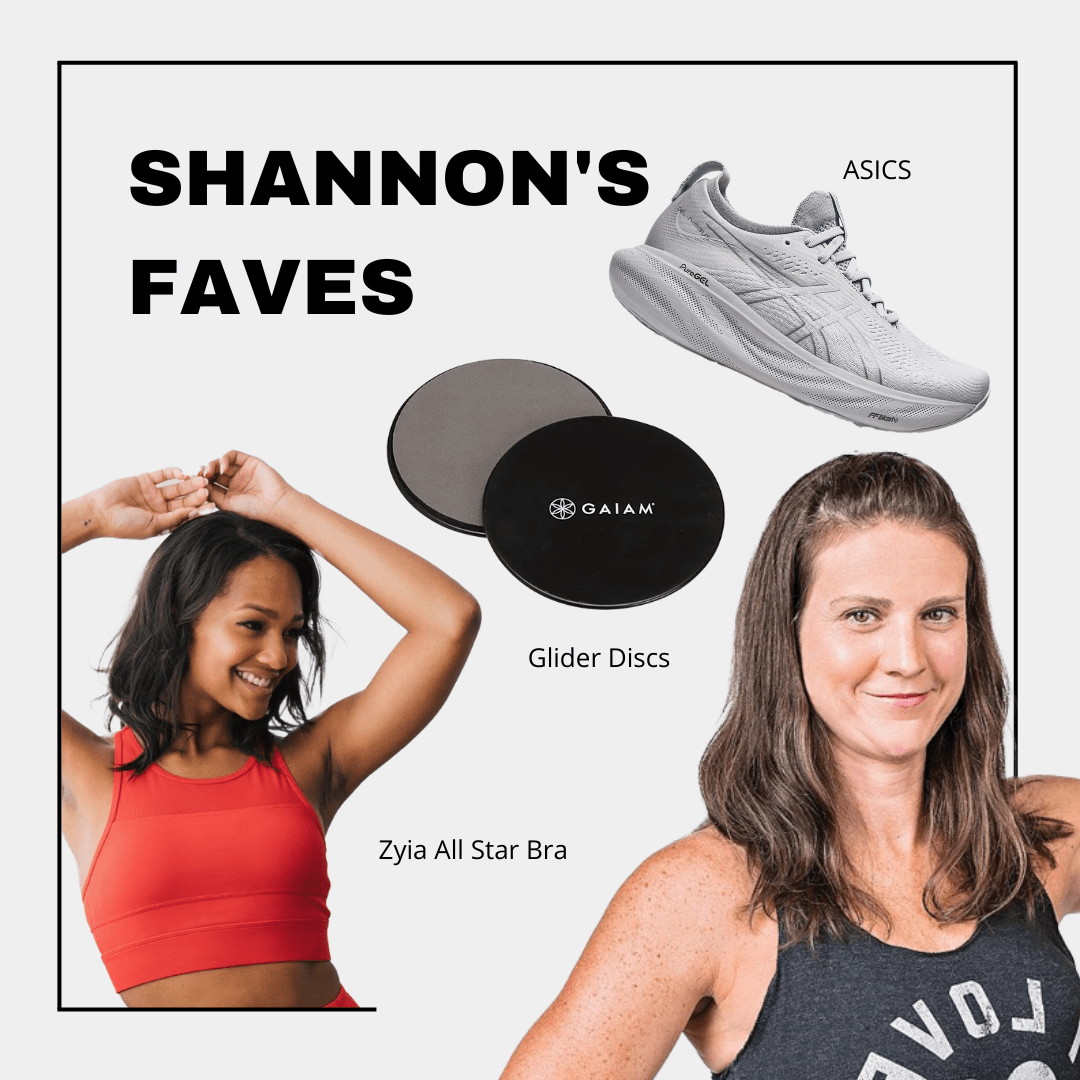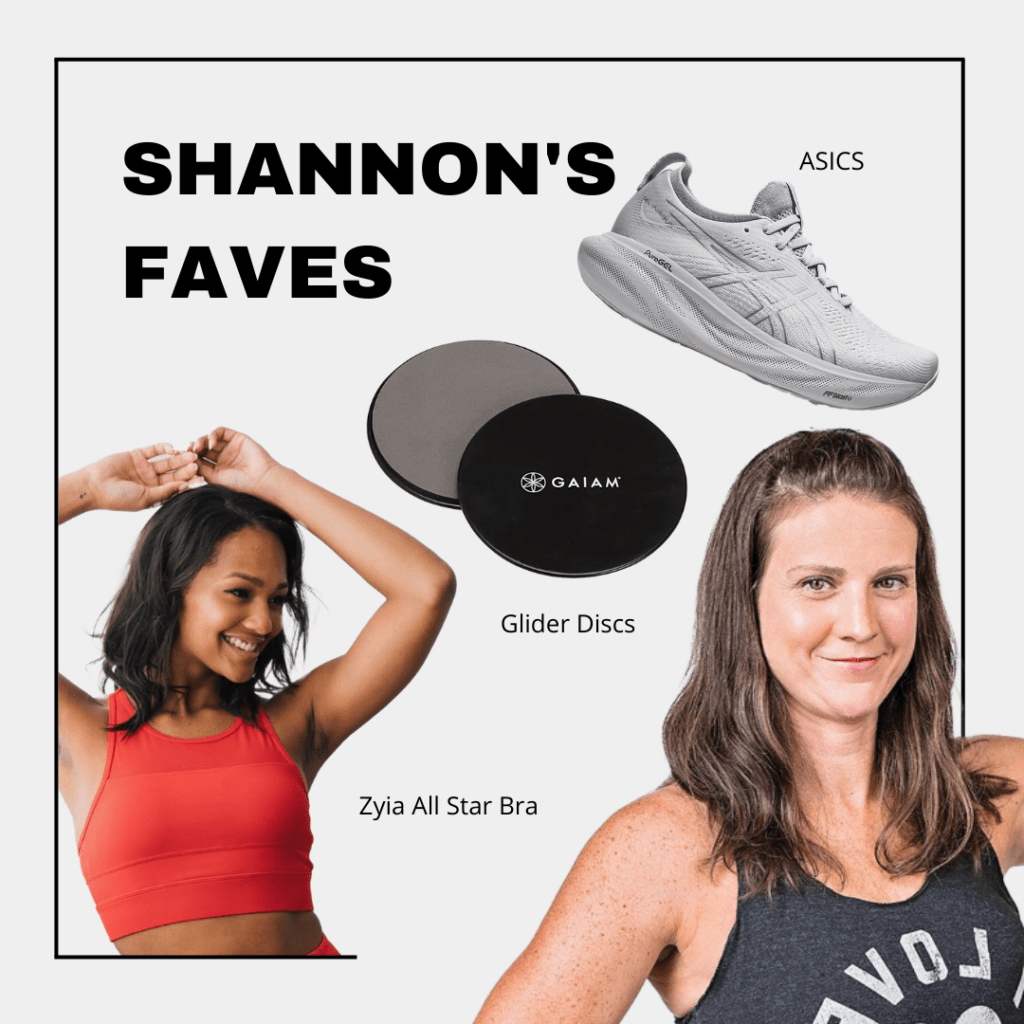 Shannon
Shannon knows her workout gear! Her go-to clothes include the supportive and stylish Zyia All Star Bra and the ultra-comfortable lululemon Fast and Free High-Rise Leggings. But of course, great gear needs great shoes. For Shannon, that means ASICS for all her workouts, from lifting weights to cardio sessions.
When it comes to accessories, Shannon is all about glider discs. Unfortunately, they don't work on the gym floor, but if you have a home workout space, they're a fantastic addition to your routine.
As for music, Shannon wants her workout to feel like a rager, which is why she shared a Spotify playlist she created titled "Friday Nights BC." So, if you want your workout to feel like a party, check it out!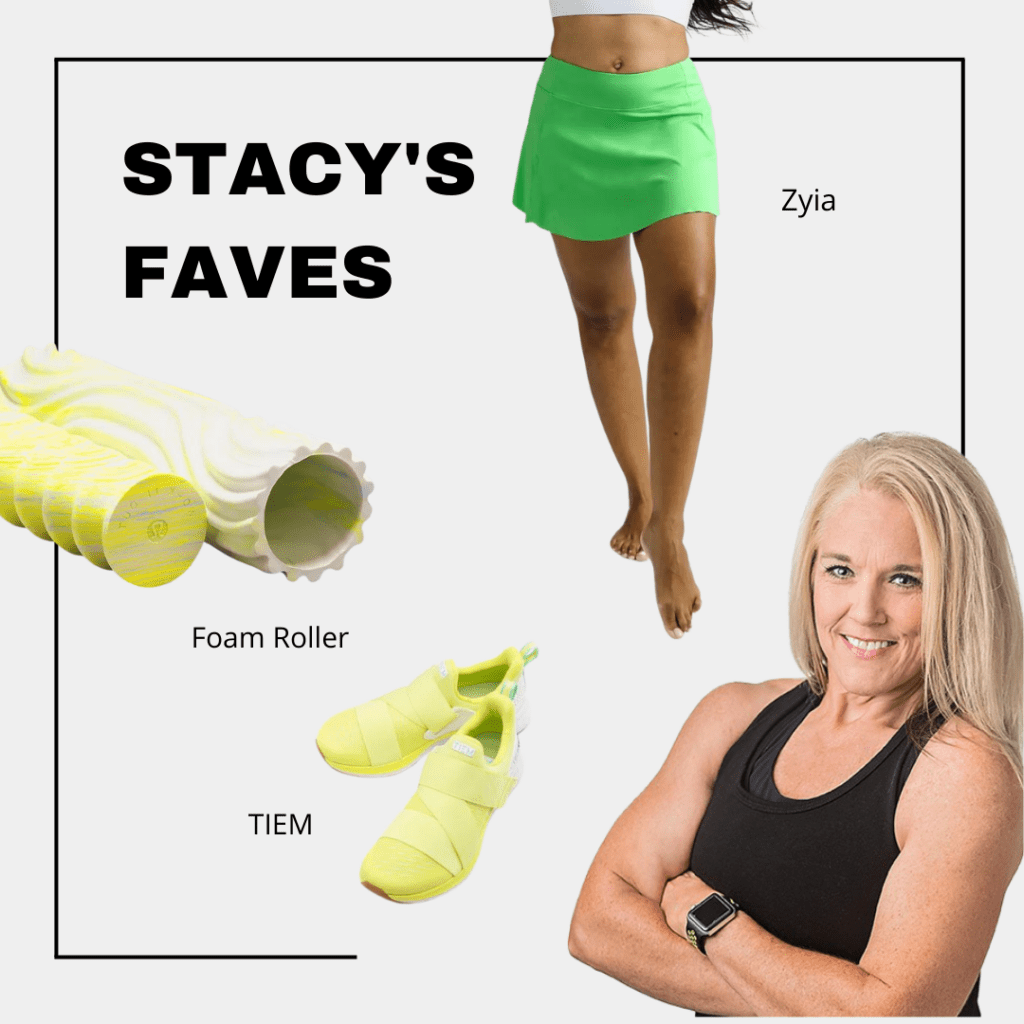 Stacy
Stacy is all about the lululemon leggings and Zyia workout clothes – she knows how to stay stylish while getting her sweat on! But let's not forget about the importance of good workout shoes. Stacy opts for the TIEM shoes for spin class and HOKAs for bootcamp and running. She knows that having the right shoes for each type of workout is key to preventing injuries and staying comfortable.
When it comes to fitness gear, Stacy has a few favorites. She can't live without her spin bike, weights, ropes, and foam roller. These items help her achieve a full-body workout and keep her muscles feeling strong and healthy.
Last but not least, Stacy loves working out to the High Energy Workout Mix on Spotify. It's full of high-energy pop hits that keep her moving and motivated throughout her workout.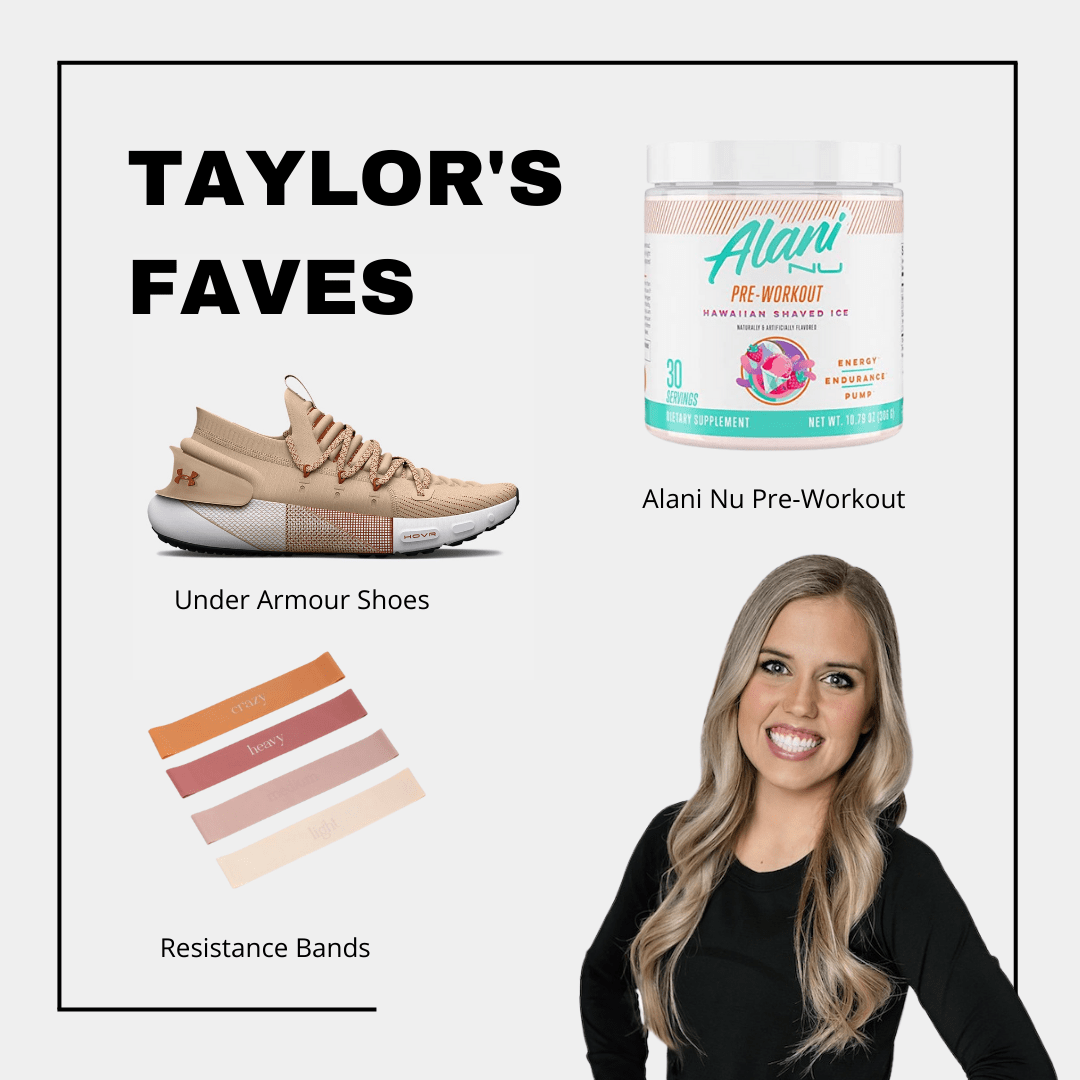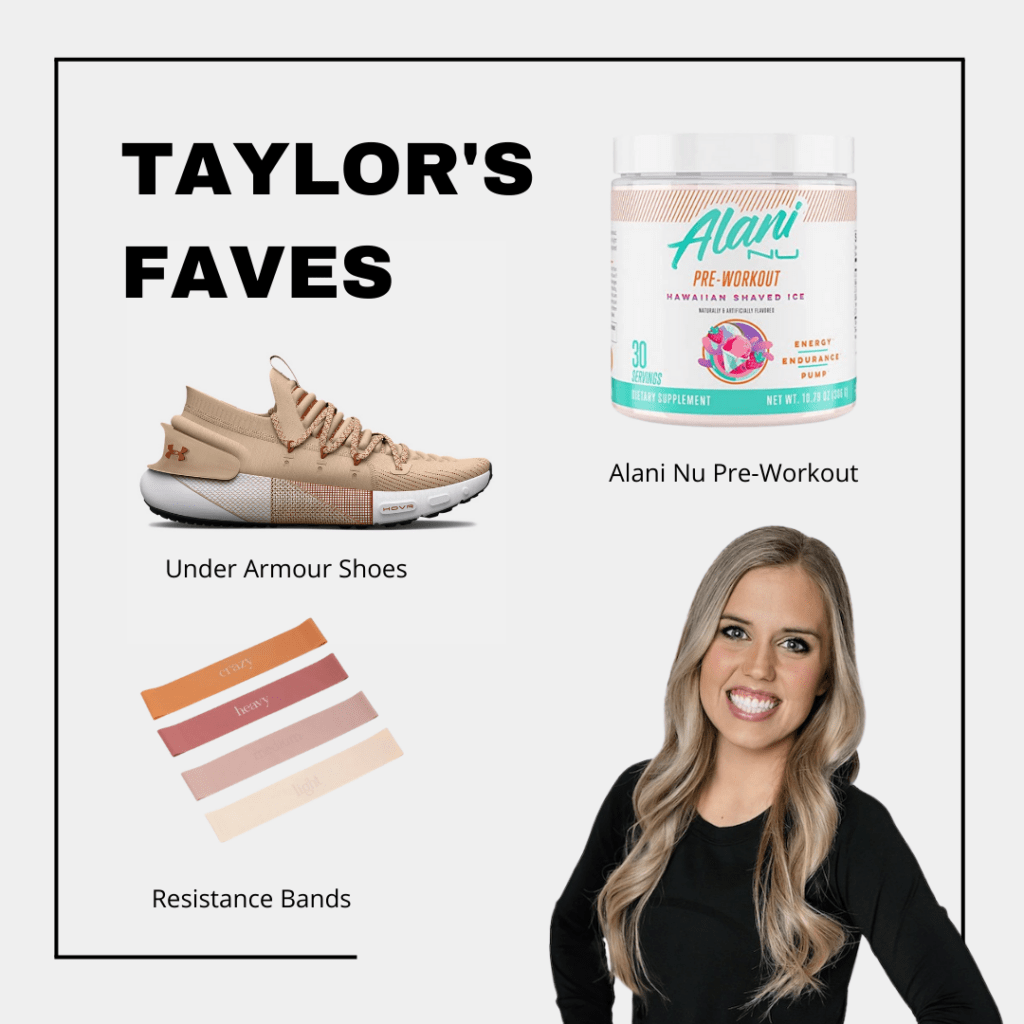 Taylor
Taylor's favorite brand is lululemon, and she specifically loves the Align™ Leggings, which are buttery-soft and lightweight, paired with the Swiftly Tech Long-Sleeve Shirt, or her McClure Fitness Tank (a personal favorite of mine as well), and her Under Armour sneakers.
When it comes to gear, Taylor loves to intensify her workout with resistance bands or weights. She also gets herself pumped up for class with Alani Nu Pre-Workout. 
---
And that's all for the Instructor Favorites series! Whether you're a seasoned pro looking to treat yourself, or a newbie looking for starter workout gear, we hope that sharing our favorite workout 'fits, gear, and playlists have inspired you to try new things to change up your workout!
Also, if you're new here and haven't checked out Part 1 or Part 2, don't miss out! Each of our instructors gave unique recommendations for a variety of workouts and price points, so you're sure to find something that will also work for you.
Don't forget that you can work out with all of these amazing instructors at McClure Fitness in Benton! And seriously, there's no wrong choice. They will all push you to become a better version of yourself.
And if you're not in the area, you can work out with many of these instructors at McClure Fitness Online! We have a variety of programs to choose from, so you can find a class and an instructor that you love.
Thanks for keeping up with the Instructor Favorites! Let us know if you snag any of the recommended items for yourself and what your thoughts are. We would love to hear from you!